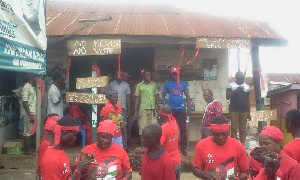 Irate supporters of the ruling National Democratic Congress (NDC) in Afram Plains South in the Eastern Region on Monday locked the offices of the District Chief Executive of the area, preventing him from working.
The group having stormed the offices, met the DCE's Secretary, drove her away and then shutdown the place.

They resorted to the unlawful action claiming the DCE had conspired with the failed Parliamentary aspirant, Mr. Eric Osei Owusu to get the incumbent Member of Parliament for the area, Joseph Appiah Boateng to step down as the Parliamentary candidate.

Hon. Appiah Boateng, withdrew his candidature on the final day of close of nominations ahead of the 2016 elections.

The MP took the decision after a court granted a motion by one Dickson Adjei Danso that he (MP) should be prevented from the race because he is embroiled in a criminal case.
The party then fielded its Eastern Regional Secretary, Oliver Mark-Kevor in replacement of Boateng, after exhaustive consultations with regional executives and the National Secretariat.

But that action has also irked some supporters of the party with sympathies to Mr Eric Osei Owusu saying the latter has been unfairly treated, as having contested with Hon. Appiah Boateng and emerged second in the party's primary he should have been an automatic replacement for the latter.

Whereas Mr Kevor claims he had an authorization letter from the National Chairman of the NDC to stand on the party's ticket, Mr Osei Owusu on the other hand also insist he had authorization from the General Secretary of the party to file his nomination as Parliamentary candidate for the area.

However, even before the seeming confusion is resolved, the group of supporters who are backing Mr Oliver Kevor has warned that any attempt to get latter to step down will see the NDC losing the December 7 election, in an area they consider a strong hold.