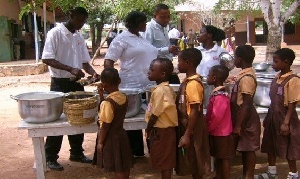 The New Patriotic Party (NPP) Amenfi East Constituency Chairman, Nana Asafoatse Badu shocked people present at Wassa Akropong Presby Primary school, when out of anger he threw away food that had been prepared for pupils under the school feeding programme.
According to reports, Nana Asafoatse Badu had a brawl with his wife who happens to be the caterer for the school early in the morning before she left home for work.

The respected politician is said to have claimed that since he secured the catering job for his wife, he'll teach her a lesson as she has disrespected him.

He reportedly stormed the school in a fit of rage, arriving at a time that the food had been cooked and just about to be served to the children and started throwing the food away, much to the surprise of on-lookers.

His unfortunate action left the pupils having to starve as no food was left for them.
The NPP Amenfi East Chairman of Council of Elders," Nana Amuni who confirmed the incident in an interview with Kasapa FM, condemned the Chairman's reprehensible action.

"There are certain things or action that when you're a public figure one must never do. It's so shameful that a whole constituency chairman couldn't comport himself and rather behaved in such manner. Why should innocent pupils suffer and study on empty stomachs just because he has a problem with his wife. This is so bad and must be condemned in no uncertain terms."

Meanwhile, the opposition National Democratic Congress (NDC) branch in the constituency are calling on the NPP to immediately sanction the chairman for his action.