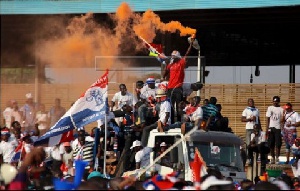 Supporters of disqualified New Patriotic Party (NPP) parliamentary candidate aspirant in the Saboba Constituency, Emmanuel Kotin, have locked up the constituency party office in protest.
They have threatened not to vote for the party in the December polls if Emmanuel Kotin is not allowed to contest in the primary scheduled for April 25, 2020.

According to the supporters, the security analyst and Executive Director of the Africa Center for Security and Counter-terrorism was not fairly treated, therefore calling on the National Vetting Committee to reverse his disqualification in the interest of the party in the constituency.
The supporters blamed the Minister of Defense and MP for Bimbilla, Dominic Nitiwul, MP for Kpandai Mathew Nyindam as orchestrating the disqualification of Emmanuel Kotin.

According to a statement issued by the Northern Region Secretary of the party, Alhaji Yakubu Subdow, Emmanuel Kotin and two other parliamentary aspirants in the Gushegu Constituency were disqualified on legitimate grounds.
Related Articles: