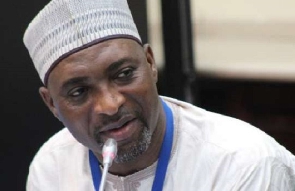 The incumbent Member of Parliament of Asawase Constituency in the Ashanti Region, Alhaji Mohammed Mubarak Muntaka has denied using his influence in Parliament to facilitate blocking of Masawudu Mubarak from filing his nomination forms to contest him in the upcoming parliamentary primaries of the NDC.
Asawase NDC has been in the news for some time now following the party's refusal to receive Masawudu Mubarack's nomination forms picked in the Ashanti regional office of the party after the regional executives realised he has been suspended at the constituency level.

Many constituents of the NDC in Asawase and other political watchers are, however, accusing the minority Chief whip of Parliament of using his position in the party to sabotage the young politician.

However, speaking with Ultimate FM's Isaac Bediako in an exclusive interview, the MP denied the allegation and said, the young politician is suffering because of his disrespect to the regional leadership of the party and other restructures.

"Before the presidential primaries of the party, the regional executives of our party held a Kumasi NDC metro unity walk in my constituency when we were busy championing unity in the region, this young man was busy with his group insulting me at the back of the float saying all others things against me and urging the constituent to change me as MP for the constituency, defeating the purpose of our gathering. It will shock you to note that while the regional chairman was busy addressing the party faithful at Aboabo Park he was also addressing his supporters' at a different location. You can't disrespect your party elders like that. So the party wrote an official letter to him to appear before the constituency discipline committee which he refused to turn up. I would have been shocked if the party had not punished him for his action'' he stated.
He again rejected claims that he is scared to lose the Asawase constituency seat if Masawudu is permitted to contest him.

"Muntaka won't remain in parliament forever, I have always been contested in parliamentary primaries of NDC in the constituency but I always win, so I'm never afraid of contest, 100 supporters of Masawudu can never unseat me. I will win over him any day the party opens a contest between myself and him. However, I will never support the party bending the rules of our party because of one parliamentary hopeful'' he said.

He stressed " I'm patiently waiting for the party to take action against him on his actions at the regional party office where they have burnt lorry tyres in a form of a demonstration at the party's Ashanti regional office. His attack on the national deputy secretary of the party Babrah Asamoah over the weekend in Accra. You went to party office with macho men from Nima right, if we are also to release our boys to react to you actions can you stand us'' he asked.