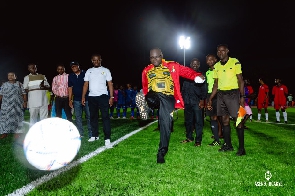 The Member of Parliament for Bantama, Francis Asenso-Boakye, has inaugurated an impressive AstroTurf sports facility at Ohwim Amanfrom, a suburb of Bantama, within the Ashanti region.
The state-of-the-art complex becomes the fourth (4th) of its kind in the Bantama constituency the MP has facilitated so far.

With a youthful population and a reputation for vibrancy, Bantama is one of Ghana's most dynamic constituencies, with a pressing need for unearthing and nurturing sports talents with the necessary skills to compete on the global stage.

In a heartfelt gesture, Francis Asenso-Boakye, who is also the Minister for Works and Housing, announced his decision to name the AstroTurf pitch after the late former Member of Parliament for Bantama, Daniel Okyem Aboagye.

Okyem Aboagye had suddenly passed the day before.
He served as the MP for the area from 2016 to 2021 and had been a member of the Finance Committee of Parliament during his time in the legislative arm of government.

"Hon. Okyem Aboagye was my dear friend from our early days, even before our political careers. His loss is deeply saddening, and in his memory, we have decided to name this facility after him in his honor," he said in a statement.

The Minister of Youth and Sports, Mustapha Ussif, who commissioned the facility, commended Asenso-Boakye for his remarkable efforts in securing this project and praised his dedication to the development of the youth in Bantama.

Sam Pyne, the Mayor of the Kumasi Metropolitan Assembly (KMA), expressed his joy at being a part of the historic moment.
He emphasized the significance of these recreational facilities, stating, "Recreation centers play a pivotal role, particularly for our youth, serving as a pathway to curbing crime and fostering a culture of healthy living."

He also urged the youth to take take good care of the facility.

This facility, funded by the Ghana Gas Company Limited, aims to nurture the athletic talents of the local youth.

It boasts numerous features, including , floodlights, inner perimeter fencing, and reserved player seating.
Click here to start the nomination process for the 2023 GhanaWeb Excellence Awards

Ghana's leading digital news platform, GhanaWeb, in conjunction with the Korle-Bu Teaching Hospital, is embarking on an aggressive campaign which is geared towards ensuring that parliament passes comprehensive legislation to guide organ harvesting, organ donation, and organ transplantation in the country.

You can also watch this episode of People & Places on GhanaWeb TV: