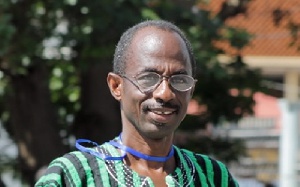 National Treasurer of the opposition NDC, Alhaji Abdullah Ahmed Abdulla has accused Mr Johnson Asiedu Nketia, the General Secretary of the party of causing their defeat in the 2016 polls.
According to him, if Mr Johnson Asiedu Nketia believes in morals, he should accept full responsibility for the defeat of the National Democratic Congress (NDC) at the 2016 polls and resign from his position because the party was defeated at his own backyard, National Treasurer of the party.

He told MyNewsGh.com in an exclusive interview that even Seikwa in the Tain District of Brong Ahafo where Mr Asiedu Nketia hails from, the party lost wondering what moral justification he has to accuse other national executives of masterminding the party's defeat at the polls.

"Even in your hometown, the NDC lost which means your hometown people don't like you. He should have resigned as a national officer after this disgraceful incident and not even try to blame others for his woes. His hometown Seikwa we have never won any election there. He should be worried that as General Secretary the NDC has never won an election in hometown", he chided.

According to him, the other national officers he is accusing of stifling the fortunes of the party culminating in its 2016 defeat did well because they ensured that where the hail from was won by the party.
"Tain Water added up to Gari and that is why we lost. In the 2016 election, NDC lost in Tain under the watch of Asiedu Nketia but Kofi Adams, Kofi Portuphy and Hajia Zeinab won in their hometowns of Buem, Ada and Bole respectively."

"Personally, I vote in Banda and NDC won but he comes from Seikwa in the Tain district where we lost. He should rather bow his head in shame and accept all the blame because if as General Secretary of one of the biggest parties you lose an election in an area you were born and raised it is very shameful", he intimated.

In his view, the Chief Scribe of the party who is seeking another term does not deserve any credit for the success of the NDC in 2008 and 2012 indicating that the grassroots and branches did tremendously well to earn those feet.