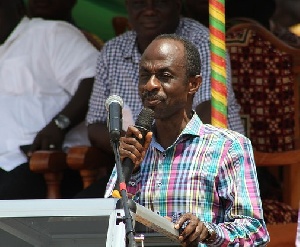 The Cashew Development Board policy initiative being touted by the Flagbearer of the New Patriotic Party(NPP), Akufo-Addo as his vision could only be a case of a bad dream by the largest opposition leader.
"Whatever vision he claimed to have had was it a vision of the Cashew itself or the Board that he's talking about? All these allegations of stolen ideas are untrue?"

Speaking at the launch of the NDC's manifesto in Sunyani in the Brong Ahafo region, Mr Asiedu Nketiah said there were remarkable strides made in respect of cashew development under the leadership of president John Rawlings with Dr Kwabena Donkor.

He said such claims by Akufo-Addo are baseless, since the growth of cashew saw a turning point in the agric sector after Ghana's first President, Dr Nkrumah started the commodity development board with emphasis on the growth of Cocoa and other cash crops.
Touching on the manifesto stealing saga, Mr. Johnson Asiedu Nketiah aka General Mosquito, stated that Ghanaians will make a big mistake if they vote the NPP into power come December 7, 2016, because they are negligent and careless.

"I've heard our opponents claiming that we still ideas from their manifesto, so if we don't launch ours they will not outdoor theirs. Even when we have outdoored our manifesto, they are still claiming we've stolen ideas from theirs which is yet to be launched. What sort of people are they, then it means they are people who cannot be trusted to protect a treasure. Then it means that even if they are entrusted with the seat of the Presidency it will be stolen, this is because you claim we you outdoor yours first, we'll steal your ideas and so you have hidden yours, and when we have outdoored ours, you still claim we've stolen from you. Ghanaians must not make a mistake of entrusting Ghana into the NPP's care."