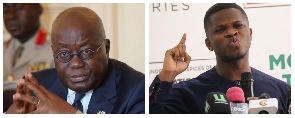 The National Communication Officer of the National Democratic Congress (NDC), Sammy Gyamfi, has called on President Nana Addo Dankwa Akufo-Addo to as a matter of urgency, hasten steps to investigate all ministers and public officials who were cited in the Auditor-General's report for wrongdoing.
Sammy Gyamfi added that the president should also arrest and prosecute the said state officials including the Minister of Finance, Health, and Information, CEO of Food Buffer Stock company and all officials who were allegedly involved in stealing public funds and others who were involved in the alleged misappropriation of COVID-19 funds per the Auditor General's report.

A recent report released by the Auditor-General highlighted some infractions in the government's expenditure for COVID-19 from March 2020 to June 2022.

In the report, the Auditor-General among other things disclosed that the state spent US$607,419.02 out of US$4,049,460.12 for the purchase of 26 ambulances, but the vehicles were never delivered.

The report also captured that some senior management and supporting staff of the Ministry of Information paid themselves a total amount of GHS151,000.00 as a "COVID-19 risk allowance" without approval.

It also detailed how the Ministry of Health paid a total of US$120,192,379.80 to UNICEF for the supply of COVID-19 vaccines but only received vaccines valued at US$38,322,000.00, with a whopping $81.8 million of the transaction unaccounted for.
Responding to the report, Sammy Gyamfi in an interview with Neat FM, called on the president to take the necessary steps to redeem the money lost and also asked the Public Accounts Committee of Parliament to expedite its public hearing on the COVID-19 Audit report.

He furthered that the Public Accounts Committee should televise the hearing for all the people of Ghana to have access to the proceedings at the hearing.

"Nana do something before you die, if you didn't spend some of the money, then take action. Those who went against the laws of the country and misappropriated the COVID-19 funds. The Auditor-General has submitted the report to you so we want to see you take action," Mr. Gyamfi said.



AM/WA