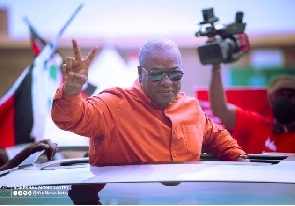 Constituency chairman of the National Democratic Congress (NDC) in the Awutu Senya East constituency, Stephen Ofosu Agyare has declared a 99.9% endorsement for the former president John Dramani Mahama in the upcoming Presidential primaries of the party slated for May 13th.
According the him, Mr Mahama is the right candidate to lead the party to rescue the nation from the ailing economy led by the governing by the New Patriotic Party (NPP).

He said Mr Mahama having led this country before has a track record.
Mr Agyare said this when he addressed delegates and party faithfuls at the ICGC auditorium early this morning, Tuesday, 28 March 2023, where Mr Mahama began his three-day tour of the Central region.

The digital chairman as he is affectionately called urged all delegates within his constituency to vote massively for Mr Mahama to lead the NDC to election 2024.