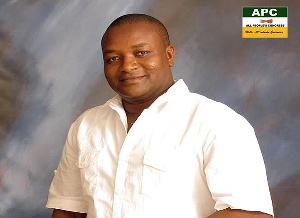 Wed, 5 Oct 2016 Source: Myradio360
Barring any unforeseen eleventh-hour postponement; the splinter Nkrumahist political group, All People's Congress (ACP) will tomorrow, Thursday October 6, 2016, launch its manifesto to convince the Ghanaian voter population to vote for the APC come December 7, presidential and parliamentary polls.
Information reaching myrado360.com indicates that the leadership of the party will launch the party's manifesto to prosecute the agenda of winning this year's polls at the Aviation Social Centre in Accra.

The launch of the manifesto is on the theme: "All-inclusive Governance, the only way to Ghana's Economic Prosperity".

The APC's manifesto launch preceding the much publicized main opposition New Patriotic Party's (NPP) manifesto launch at the Trade Fair in Accra on October Sunday 8, 2016.

It is however not clear why the APC is launching its Manifesto ahead of the NPP but insiders say is a move to ignite the rivalry among the party and the NPP, which resulted in the flag bearer of APC Hasan Ayariga, accusing the flag bearer of the NPP of staying in his late father's abode at the age of 72.

According to a statement signed by Razak Kojo Opoku, General Secretary of APC, the 2016 manifesto launch will be done by the leader and founder of the party, Dr Hassan Ayariga, who is also the 2016 flagbearer.
The manifesto launch will outline policies accepted by the National Executive Committee of the party.

The launch is expected to announce policies, programmes and offer cutting-edge and top –notch solutions to the challenges facing the Ghanaian economy under the leadership of the governing National Democratic Congress (NDC), the statement explained.

"We will like to take this opportunity to invite all the sixteen aspirants who filed their presidential nominations for the 2016 elections with the Electoral Commission (EC) to be part of the manifesto launch.

The statement is however, inviting the general public, constituency and regional executives of the party as well as supporters to make a point to grace the occasion in their numbers.
Source: Myradio360