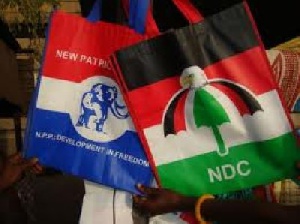 The executives of the National Democratic Congress (NDC) and the opposition New Patriotic Party (NPP), in the Ayawaso Central Constituency have accused each other of masterminding violence in the run-up to next month's general election.
They further accused each other of secretly training machomen to cause mayhem on election day.

The accusation and counter-accusation were made during separate meetings on Tuesday with the Nima Divisional Election Security Task Force.

The meeting was part of a dialogue series being organised by the Nima Divisional Police Command aimed at ensuring peace and security during the election period.

Henry Quartey, incumbent Member of Parliament (MP) for Ayawaso Central Constituency told the taskforce that they had information that the NDC had recruited about 60 men christened "Zarakoza" and were training them to cause mayhem during election.

Currently he said most posters of the NPP parliamentary and presidential candidates had been defaced while others have been removed.

He claimed that some members of the party including himself had been threatened and he requested for police protection.
He said the NPP would not be intimidated and pledged to cooperate with the police to discharge their duties professionally.

Mr Quartey said some of the hotspots in the area which experienced election related violence during the 2012 election included the Panama, Apex, St Michael and Ebony polling stations.

A leading member of the NPP, Shiek I. C Quaye said it was important to sustain the peace in the constituency.

The NDC parliamentary candidate, William Afun Ani-Agyei also accused some members of the NPP of interfering in NDC activities.

"We are disciplined, but anytime we organise rallies, the NPP members will use motorbikes to distract us but we do not retaliate," he said

According to the NDC parliamentary candidate NPP members have removed billboards mounted by the NDC.
He said during the limited registration exercise, some NDC supporters were assaulted and harrassed by NPP members, adding that NDC members did not also retaliate.

Mr. Ani-Agyei also alleged that NPP was training machomen who would be deployed to cause commotion on the election day.

The Nima Divisional Police Commander, Assistant Commissioner of Police, Vance Gariba said the exercise was organised to bring the police closer to the people and also engage with them to ensure a peaceful election.

ACP Gariba said security would be beefed up at the flashpoints.