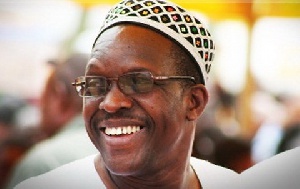 Mon, 26 Sep 2016 Source: GNA
Mr Johnson Asiedu Nketia, General Secretary of the National Democratic Congress (NDC) has described Majority Leader in Parliament, Mr Alban Bagbin as a valuable asset that needs to be retained to help contribute to governance in the country.
He said the NDC has invested so much in the Nadowli-Kaleo representative and that he had now become a precious asset not only for the people of Nadowli-Kaleo Constituency but also to the party, to parliament and to the entire nation.

Mr Nketia said this while addressing chiefs and traditional rulers of the Nadowli-Kaleo Constituency at Nadowli in the Upper West Region as part of the six-day tour of the region by the Chief of Staff, Mr Julius Debrah.

The NDC General Secretary noted that the party sat down and agreed that the decision of some of their Members of Parliament (MP) either to contest or not to contest should not be left to them but to the party.

He said Bagbin was one of such MP's and urged the people to vote massively to retain him as their (MP).

Mr Nketia also dismissed rumours that President John Dramani Mahama was sponsoring somebody against the veteran politician and warned such people to stop.

Mr Dedrah, who is in the region to explain the party's policy in agriculture, added his voice to the call to retain the veteran parliamentarian, saying he was very good to the extent that he performed dual functions to perfection.
He urged the people not to be deceived by anybody with selfish interests but rather think of the benefit that would be gained in retaining Bagbin to the people in the constituency, the party, parliament and the whole nation.

Alhaji Amidu Sulemana, Upper West Regional Minister, said if they like President Mahama, then they should like his MP's too because they were those who would support him to work and bring development.

Mr Kuubabang Bafara Kizito, Secretary to the Nadowli-Kaleo Traditional Council, thanked government for the numerous development projects given to the district.

He appealed to the government to work on the remaining roads in the constituency and extend the Nadowli small town water system as well as work on their market to make it conducive for revenue mobilization.

He also called on the government to absorb the McCoy College of Education in Nadowli to reduce the full school fees burden on the students.
Source: GNA