Rumors are rife as to whether the Right honorable Alban Kinsford Sumana Bagbin, the second Deputy Speaker in Parliament and Member of Parliament for Nadowli West will lead the National Democratic Congress (NDC) in the 2020 presidential race.
Early this year, some 2020 posters of Alban Bagbin were spotted in town as well as numerous social media platforms including some online portals. However when Mr. Bagbin was contacted, he said he has no hand in the posters.

He however noted that many Ghanaians have called on him to lead the NDC for the 2020 elections. These include some party big wigs, grass root supporters, present and past MP's , civil society organizations among others but he tells them he is still consulting and considering whether he will contest or not.

Mr. Bagbin was also of the view that he respects party structures and since the party has not officially opened nominations for members to contest, he cannot speak on the matter.

The Nadowli West MP supervised the NDC to win power as the minority leader in the 2008 elections.

Many believe that as tactical as he is, he can put the party together for victory come 2020.

Over the weekend members of the NDC in Tamale organized a unity walk which was led by the former president, His Excellency John Dramani Mahama as well as some national executives of the NDC.
Pictures of Mr. Bagbin exchanging pleasantries with the former leader of the NDC President Mahama at the unity walk emanated which many described as a 'fiasco'.

The Nadowli West legislature immediately issued a disclaimer saying "I was in Tamale, I met the former President and his team at the Tamale airport on their way to Accra. I had to meet and embrace him at the airport. He is a colleague and a former President of this great nation. We had a nice chat but I was not at the walk".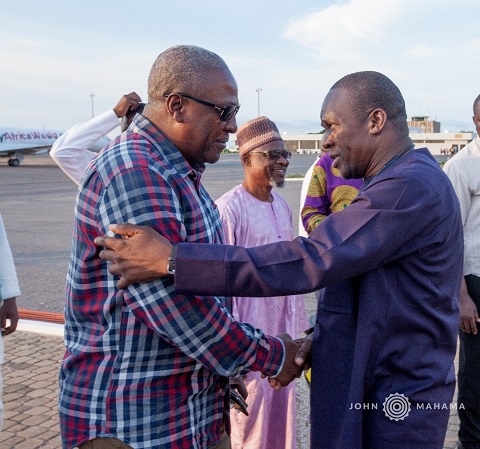 The statement has attracted mixed reactions from many NDC party faithful and the general public with some saying it was wrong for him to have issued that statement, whilst others are also of the view that his statement is a signal that he has his eyes on the 2020 slot.

It will be recalled that during the erstwhile Mahama administration, there was a seeming poor working relationship between the party and the government, it took Mr. Bagbin to take the President on.

"If he refuses to be advised privately, then I will advise him through the media," Mr. Bagbin said.
These and many others make some party faithful believe in the choice of Mr. Bagbin for the 2020 elections.

Many are therefore asking if the Right honourable Alban Kingsford Sumani Bagbin will contest for 2020 slot on the ticket of the NDC?

Only time will tell.

Watch the video below