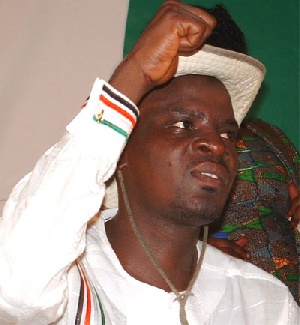 The Minister of Employment and Labour Relations, Haruna Iddrisu has hit hard at the running mate of the New Patriotic Party (NPP) Dr Mahamudu Bawumia over his recent comments during a public lecture about the state the country's economy.
He describes him as someone bereft of the intellectual understanding of issues of the Ghanaian economy, which could have influence the 'dishonest' comments he made.

"Bawumia has accused President Mahama and the NDC government of lacking policy credibility …..Let Dr Bawumia know and learn more economics because we have borrowed Eurobond to pay for the 2007 Eurobond wasted by his NPP government", he said.

According to the Labour Minister at the Tamale Central NDC Constituency Campaign Launch over the weekend, the party has more credibility than its opponents in the NPP wondering if Bawumia now speaks on "Propagandaeconomics or real Economics".

The outspoken legislator observed that the NDC is on record to have invested more in secondary and tertiary education more than any government in the country laughing off promises by Dr Bawumia and his party to also build 600 of such facilities if they are voted for.
"Judging from their promises I wonder who is more credible. It is obvious the NDC and President Mahama is more credible than the NPP", he said.

He reiterated that the NDC government has borrowed to embark on radical development to inure to the benefit of the citizenry and not for personal growth as witnessed under the NPP where loans were contracted for personal gain.

To this end, he called Dr Bawumia to revisit his basic economic lecture notes to understand the real issues on the ground than go about deceiving the public with 'cooked and deceitful" figures.