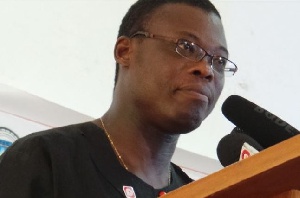 Former Deputy Finance Minister Fiifi Kwetey has fired back at Vice President Dr Mahamudu Bawumia over his claim that the Ghanaian economy would have been worse off under the National Democratic Congress (NDC).
Dr Bawumia speaking Monday at the ongoing National Policy Summit in Tamale described as scary the performance of the NDC whilst in office, urging Ghanaians to reject them in 2020 and subsequent polls.

"The NDC in government after 8 years in office is one that Ghanaians could and should no longer tolerate," Dr Bawumia said Monday at the ongoing National Policy Summit in Tamale.

But speaking to Starr News, Fiifi Kwetey mocked Dr Bawumia fixation on NDC noting he is using the NDC to divert attention from the incompetence of the Akufo-Addo government.

"I do sympathise with him [Dr Bawumia], because, at the moment, I think he must be pretty worried about how he has become the object of scorn, the object of ridicule, the object of mockery all over especially [on] social media and even in the traditional media, that, it is virtually an issue of all the cosmetic hype around him is gradually being stripped and people are getting to know that not all that glitters is gold," he told Starr News' Parliamentary Correspondent Ibrahim Alhassan.
He added, "So, that obsession again with the NDC, and hoping somehow as long as he can continue to put the NDC down that will cover his own nakedness. It's not going to happen.

"The people of Ghana at this moment have given you a job. The campaign is long over. They have handed over the saddle to you. They expect you to honour your promise. You told them you have arrested the cedi, you have padlocked the cedi and handed the padlock to the IGP.

"The cedi today is in trouble and you go to Tamale and tell them that is NDC. Is NDC the reason why the cedi is having problems today? Is NDC the reason you are unable to keep the prices of fuel down? Is the NDC the reason why so much hardship has come and ordinary including people members of your own party are complaining? It just shows that he is at his wit end and he doesn't know how to cover that shame. So what you do is to try to see whether if we can blame the NDC, we can divert a bit of attention."