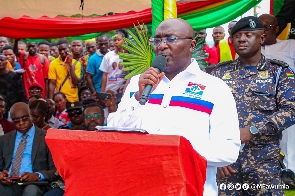 Fri, 21 Jul 2023 Source: Joseph Marfo, Contributor
The Member of Parliament for Tafo-Pankrono in the Ashanti Region, Vincent Ekow Assafuah, has emphasised the crucial role played by Vice President Dr. Mahamudu Bawumia in preventing a major setback for the New Patriotic Party (NPP) after the 2012 polls.
In an interview on Oyerepa Breakfast Time on Tuesday, July 18, 2023, the Tafo lawmaker revealed that Dr. Bawumia fearlessly defended the NPP in court when the party's top officials had abandoned it.

Assafuah highlighted the fact that without Bawumia's involvement, the NPP would have faced a potential collapse during that critical period.

"In 2012 after the presidential elections, at the time the party was at the point of no return, at the time everyone had forsaken NPP, we had people like Dr. Mahamudu Bawumia staging through cross-examination with Tsatsu Tsikata, not evidence in chief, but he stood in court defending this party," the Tafo legislator said.
Ekow Assafuah declared on the show that there is no other individual, apart from Bawumia, who is automatically qualified to be the flagbearer of the NPP.

He underlined that the Vice President has effectively shouldered the responsibilities of the NPP more than any other contender. Consequently, he firmly believes that the party's delegates will grant him the authority to lead the party and ultimately become the next president of Ghana.

"The next president of Ghana is Dr. Mahamudu Bawumia," he confidently declared.
Source: Joseph Marfo, Contributor