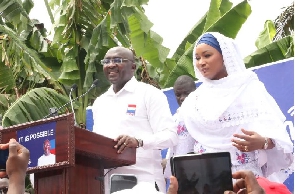 Vice President Dr. Mahamudu Bawumia takes his campaign tour to the Ashanti Region starting Thursday, July 6, 2023, after he rounds up engagements in Accra.
He is expected to launch a campaign office in the party's stronghold and meet with the grassroots, party executives, Members of Parliament (MPs), Council of Elders, and persons who matter in the New Patriotic Party (NPP).

According to a timetable released by his campaign office, he is expected to round up engagements in all the constituencies in the area by July 19, 2023.

Dr. Bawumia, who enjoys a lot of support from the Ashanti Region, has always described the place as his second home, with the majority of the MPs supporting his bid to lead the party.

On a recent visit to the region, an elated Dr. Bawumia hailed the New Patriotic Party (NPP) for the tremendous show of love shown him.

He described the gesture not only as surprising but also amazing, urging the rank and file of the party in the region to continue to forge ahead in unity.
"I am humbled by the surprising and amazing support. It is a big statement you have made. Let me commend Constituency Chairmen and other executives in the Ashanti Region for this support," he said in shock following a massive show of love.

According to him, he exists because of them, particularly those who contested elections but united thereafter.

"I exist because of you. The organisation of this welcome was done in unity between Chairman Wontumi and Odeneho Kwaku Appiah, and that is very commendable. It is only the NPP that can beat itself, and therefore unity in Ashanti is important ahead of the 2024 polls, "he observed.

To this end, he appealed to the NPP in Ashanti Region, which is the stronghold of the party, to continue to tread on that path and consolidate the gains to retain power in 2024.

"NPP will win 2024 if we are united. Let us unite among ourselves," he counselled.