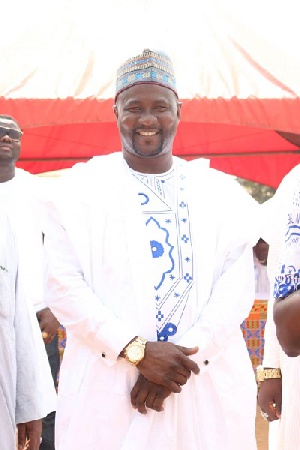 An ardent member of the New Patriotic Party and an aspiring parliamentary candidate for Asutifi South constituency Hon. Ali Suraj has described the prophecy of the leader and Founder of Glorious Word Ministry, Rev. Isaac Owusu Bempah, over the death of the vice president, Republic of Ghana as uncontoured for.
According to the Ardent NPP member, His Excellency Mahmud Bawumia will not die in 2019.

He says, it is unspiritual for a Man of God to make such prophesy on the second gentleman of the land.

"Even if you see it in the realm, why don't you as prophet keep it to yourself and pray over it? Suraj questions Owusu Bempah.

Suraj was addressing the press after a series of Quranic recital sessions he solely organized in the Ashanti over the prophecy and to proclaim the entire Qur'an to glorify Allah's mercy on the nation, and the Akuffo Addo led administration for how far HE has brought Ghana far.
The recitation, according to him was to also mark the beginning of 2019 and to pray for Allah's continuous blessing to NPP led administration.

It is the fervent prayer of the Mr. Suraj that, Almighty Allah guides and blesses them with innovative ideas to make Ghana the New York of Africa.

At the Qur'anic recital sessions, the Imams also pray for the leadership of the New Patriotic party led by Hon. Freddie Blay for a stronger and more United NPP to stay in power beyond 2020.