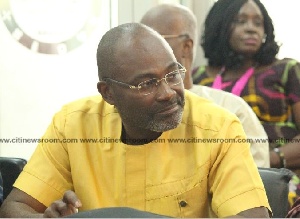 The founder of Glorious Word and Power Ministries International, Reverend Isaac Owusu Bempah is admonishing the governing New Patriotic Party (NPP) to as a matter of urgency beg controversial lawmaker for Assin Central, Kennedy Agyapong if they have wronged him in any way.
He warns that the party lives to regret if it fails to beg for forgiveness from the vociferous lawmaker who for a month now has refused to defend the NPP on any media platform over irreconcilable differences he has with the top echelon of the party.

"I am telling the NPP now that if they have any issue with Kennedy Agyapong they better resolve it faster before the end of 2019. Hurry before because you appear to be delaying. There are some people you do not have to joke with because they work hard; one of such persons in the NPP is Kennedy Agyapong", he disclosed in a sermon streamed on Facebook and monitored by MyNewsGh.com.

Reverend Owusu Bempah observed that the party has not been fair to Kennedy Agyapong prior to the announcement of his boycott revealing how he himself has been deeply hurt by actions of members of the party he has been working with.

"One of the most disheartening things in life is that the people you are fighting for will rise against you. That is what some members of the NPP have done to me I am pained. The kind of treatment they have meted out to Kennedy Agyapong is unfair. It is not the case I am doing politics but it is not good. They have accused him of talking too much. If he does not talk who will talk? The NPP has betrayed Kennedy Agyapong", he revealed.

According to him, he was speaking based on the direction of the spirit bearing in mind the significant contributions of Mr Agyapong to the electoral fortunes of the party in previous elections.
Mr. Agyapong in March this year, said it was time for him to also prove those who hold an erroneous impression that he is too loud that he could also be gentleman since the NPP wants things done in that manner.

"Ghanaians should begin to know the difference that is why I have taken that position. You will see that I also know how I love life and I will display it for people to see I am more a gentleman that many of the NPP people who think I am stupid", he revealed in an interview monitored by MyNewsGh.com

The Assin Central lawmaker who is worried members of the NPP themselves do not really value his contributions through public discourse ,has revealed that he has come to the end of the road in speaking for the party both on radio and television.

He revealed that as part of activities to re-brand himself, he has ceased being rough and will adopt the gentility style of approach in his public discourse as done by leading members of his party.