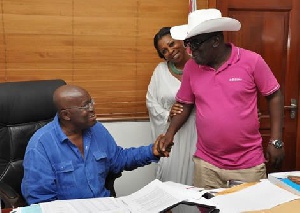 Wed, 19 Aug 2015 Source: peacefmonline
Former General Secretary of the opposition New Patriotic Party (NPP), Kwadwo Owusu Afriyie stormed Peace FM's studios on Tuesday to pour out his frustrations and sufferings at how the current administration is governing the country.
As host of Peace FM's award-winning Morning show "Kokrokoo", Kwami Sefa Kayi, was engaging his panel members in some national issues; the NPP General Secretary trooped in and disclosed that he has electoral hangover from the party's crushing defeat in 2012 polls.

According to him, being in opposition has affected his diet and as a result he has developed "Kwashiorkor".
Kwashiorkor is severe malnutrition resulting from a diet excessively high in carbohydrates and low in protein.

When probed further about his claims of being malnourished, Sir John confided in the host stating that "being in opposition is painful. If you don't eat well, that's how your stomach always looks…This pot-bellied tummy didn't develop in a day, but I've lived in abject poverty and suffering for 8 years. Do you know that if you don't eat well, you begin to develop Kwashiorkor? My own bloated tummy is a result of Kwashiorkor."
Source: peacefmonline