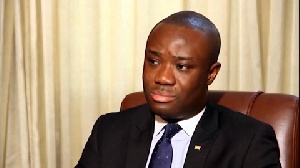 The Akufo-Addo government has collapsed the majority of projects undertaken in the water sector by the Mahama-led administration, hence the water shortage currently being experienced in the country, Felix Kwakye Ofosu, a former Deputy Minister of Communications, has said.
His comment comes on the back of water shortage in some parts of the country which has necessitated rationing by the Ghana Water Company Limited.

The Communications Director of GWCL, Stanley Martey, has said the rate of evaporation of water bodies across the country has become alarming and unless there is rain, there will be consequences for some communities.

Commenting on the development on his Facebook page on Tuesday, 30 January, Mr Kwakye Ofosu blamed the situation on the current government.

"When in power, the NDC spent close to a billion dollars on dozens of major water projects that gave an additional estimated 7 million Ghanaians access to clean water. One such project converted sea water to potable water for 500,000 people living in the Western part of Accra.
"In fact, at the time of leaving office, the NDC had ensured that we possessed the capacity to meet the water demand for the entire Greater Accra Tema Metropolitan Area or GAMA for short. All that was needed was a little more investment to deliver water to every home in the afore-mentioned area.

"We were told then that no one eats infrastructure. Today, the all-talk, no-action NPP government is implementing a rationing regime which has made a basic necessity like water a scarce commodity even in supposedly affluent parts of the capital.

"The desalination plant at Teshie remains shut over the flimsiest of reasons at a time when it could have helped address the acute shortage."