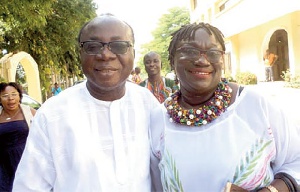 Acting National Chairman of the ruling New Patriotic Party (NPP), Freddie Blay, yesterday interacted with constituency chairmen and regional executives of the party in the Brong-Ahafo Region and asked them to exercise patience as it (party) works things out for them.
The meeting, which was held behind closed doors, was attended by all constituency chairmen from across the region, the regional women's organizer, deputy regional secretary, youth organizers, among other party big wigs.

Information reaching Daily Guide indicated that there is unease in the constituency as some of the executives had expressed concern that they had not gotten any position in government since the party came to power almost eleven months ago.

According to insiders, some constituency chairmen are aggrieved that once the NPP is in power, they should have been given some appointments, contracts or other positions for working hard for it to capture power from the National Democratic Congress (NDC).

Interacting with them, Mr. Freddie Blay asked them to exercise patience since the party has been in power for only eleven months.
Speaking to Daily Guide after the meeting, Mr Blay described the meeting as interactive, saying he was there to find out their problems and take them up with the national executives.

Some of the executives the paper spoke to described the meeting as fruitful and timely.  The Asutifi North Constituency chairman, Francis Opoku Sarfo, told the paper that expectations were very high when the party won power, and so eleven months in governance seemed long enough to reward some people who had sacrificed their time, money and everything for the party to win power.

DAILY GUIDE also learnt that the acting chairman used the occasion to inform the NPP activists about his intention to context for the national chairmanship position when the party finally opens nominations