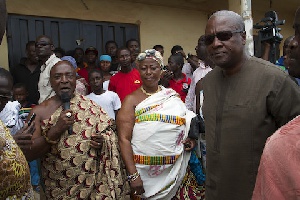 The National Democratic Congress (NDC) Parliamentary candidate for Suame constituency Brogya Genfi, has dispelled allegations that the Breman Chief Nana Baffuor Kotei Kutin Sraman III is engaging in partisan politics ahead of the December polls.
The Chief has been captured in a video on a campaign platform in Suame during the President's 4-day tour in the region, campaigning and urging constituents to vote massively for Brogya to be elected as the Member of Parliament (MP) for the area.

But speaking on Abusua FM's Abusua Nkommo hosted by Kwame Adinkrah, Brogya said the chief never engaged in partisan politics as speculated by a section of the public including the incumbent MP Osei Kyei Mensah Bonsu.

Defending Nana Sraman III, the NDC Ashanti regional Youth Organiser, said aggrieved people could have a course to complain if the chief had addressed only NDC supporters saying the chief's message was not directed to NDC supporters alone but all constituents.

'Nana Baffuor Kotei Kutin Sraman III is not engaging in partisan politics, his message was not directed at only NDC members, he advised all the constituents who have different political affiliations. We, especially the NPP incumbent MP need to be mindful of our utterances when talking about our leaders and chiefs because Nana was representing all the chiefs in the area who were present.

I am not surprised about what Nana said because I have visited and interacted with all the chiefs in the constituency selling my message to them. I have been to almost all the palaces in the area, talk of Aboahia, Kyerasehene, Kronum, Kwaprahene, Suame Odikro, Maakro, Tarkwa, Anumangye, Otumfuo's representative, Sanaahene, all of them prayed and encouraged me to win the seat. Bremanhene had the opportunity of addressing the constituents during the President's campaign tour in the Constituency. All the chiefs including Suame constituents are yearning for change,' he explained.
Asked how he intends to close the 50,000 votes gap between NDC and NPP in the constituency, he said 'the constituents who created the gap are the same people who will close the gap if they don't want to see the incumbent representing them again in Parliament. In fact I don't need the 50,000 votes to enable me win the seat'.

The Parliamentary hopeful wondered if his opponent is trying to denigrate the chief in his bid to score cheap political points.

He called on the electorate to vote massively for him to unseat Osei Kyei Mensah Bonsu in the December polls.

'Osei Kyei Mensah Bonsu has done his bit for the past twenty years (20) so there is no point giving him another four years, I will unseat him to bring in more developmental projects in the constituency,' he expressed hope.