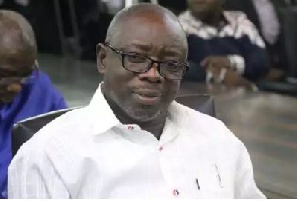 Mr. Kwaku Asomah-Cyeremeh, the Brong-Ahafo Regional Minister has inaugurated the newly-created Berekum West District Assembly (BWDA) with Jinijini as its capital at a colourful durbar organised by the chiefs and people of the area.
As part of the ceremony, 25 Assembly Members, comprising 17 elected and eight government appointees were sworn into office by Mr. Jacob Narh, the Presiding Magistrate of the Berekum Magistrate Court.

Mr Narh led the members, most of whom were members of the Berekum Municipal Assembly (BMA) which the new District was carved out, to take the three national oaths of office, allegiance and secrecy.

In a speech read on behalf of President Nana Addo Dankwa Akufo-Addo, Mr. Asomah-Cheremeh appealed to them to assist the Management and members of the Assembly to ensure efficient discharge of the Assembly's core functions and successful implementation of government policies and programmes.

He appealed to every resident to participate in the building the District to fulfil the principles behind the Legislative Instrument and the Local Government Act 316, upon which it was created.

That the Regional Minister added would pave way for the agenda of positive change, growth, job creation and prosperity through the decentralisation process, based on the Economic and Social Development plan presented to Parliament by President Akufo-Addo.
Mr Asomah-Cheremeh said it required the collaboration of all stakeholders to be able to revive, restructure and revitalise the economy of the area, using agricultural re-generation methods and application of science and technology to ensure the speedy progress of the District.

Mr. Kwaku Agyenim Boateng, Member of Parliament (MP) for Berekum West who doubles as the Deputy Minister for Railways was grateful to President Akufo-Addo for selecting Berekum West among only two Districts created in the region.

He was hopeful that the District would soon grow to be counted among the best nationwide and appealed to the people to forge ahead in unity, peace and love for the general progress of the area.

Mr Kofi Agyei, the Berekum Municipal Chief Executive advised the youth of the area to be ready to take advantage of the numerous job opportunities and diverse interventions that would go along with the creation of the District so as to earn income to enhance their living conditions.

Daasebre Dr. Amankona Diawuo II, paramount chief of Berekum Traditional Area who presided commended government for the elevation of the area from Constituency to a District and pledged to offer support for the Assembly to work effectively.