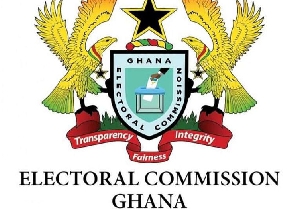 The Electoral Commission (EC) says the Constitutional Instrument (C.I. 126) which matured recently, does not give the Commission the mandate to use the biometric data of the National Identification Authority (NIA).
What the CI sought to do, the Commission explained in a statement signed by Sylvia Annoh, the Acting Director of Public Affairs, "is to rely on the physical NIA card to prove a person's citizenship as [a] precondition for registration".

The Commission stated further that if the Minority Leader had read the C.I. 126, "it would have been obvious to him that the Commission was not seeking to synchronize its data with that of the NIA".

"It is interesting that the same Minority which accused the EC of being in bed with the NIA to rig the election would today turn around and propose data synchronization which would require the EC to work directly with the NIA and rely extensively on its biometric data in its database," the statement said.

Haruna Iddrisu, the Minority Leader on Tuesday told journalists after meeting with the Electoral Commission at the Special Budget Committee that, Jean Mensa, the Chairperson of the EC, had suggested that the number of polling centres to be used for the upcoming registration exercise will be reduced.

"They [the EC] intend to phase out the registration exercise in some 6,300 registration centres out of the 33,000 centres across the country," the Tamale South MP cum Minority Leader, had said.
The MP also indicated that the EC would not be using the biometric data from the NIA in its compilation of the new voters' register.

"I do not see any co-operation and collaboration even though that has been made an essential primary reference document. [Jean Mensa's] assurance is that they will accept it only for the purpose of identity that you're a Ghanaian. Not a use of the data already processed and stored?"

Read below the full response from the EC.