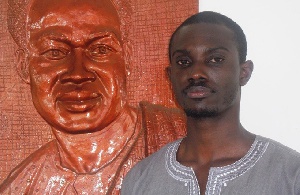 An activist of the Convention People's Party (CPP) and a firm believer of Dr. Kwame Nkrumah Ghana's first president, Ernest Yeboah have said one can consider all the other political parties aside the ruling New Patriotic Party (NPP) and opposition National Democratic Party (NDC) as totally irrelevant.
A party like the CPP he lamented, has also become irrelevant because the purpose and ideologies of the second generation founders, has destroyed the very reasons why the party was formed by the late Nkrumah.

The outspoken youth leader was of the view that, the CPP was not brought back by its second generation founders; to win power but was only brought back to show that Ghana was practicing multi-party democracy and to make money.

Ernesto Yeboah asserted, the likes of Kwesi Pratt Jnr, Papa Kwesi Nduom a former member of the party, and Freddie Blay who were are the second generation founders of the CPP,  for the sake of money destroyed the very foundation of the party.
He has challenged the youth to be concerned of making Ghana work again. Ghana he stressed needs a self retrospection.

He has also proposed a proportional representational system where we can have the nation forcing its people to work with the best that it has.   ''We should vote for leaders based on their professional background, 'he added.

The Convention Peoples' Party (CPP) was  formed in 1949 during the struggle for independence and it was the first party to rule Ghana after independence.