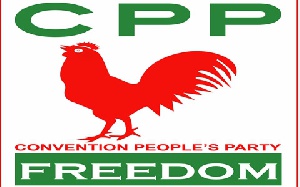 Sun, 16 Oct 2016 Source: GNA
The Government of the Convention Peoples' Party (CPP) would initiate an Accelerated Education Sector Investment Programme (AESIP), as policy to transform the country's educational system.
The AESIP policy, educational facilities starts from the kindergarten to the tertiary level and would be expanded to meet the needs of a growing population and modernising society.

These was stated in its Election 2016 policy document which was made available to the Ghana News Agency (GNA).

"All vocational and technical schools will be adequately resourced under the AESIP and expand and improve the quality of facilities at all tertiary institutions under AESIP to world-class levels in order to gain a greater share of the international education market," the CPP stated.

The analysis is part of the GNA's project, "GNA Tracks Election 2016," which seeks to sensitise the electorate on the various issues raised by political parties, elections management body and other governance institutions.

The project also seeks to ensure that gender and social inclusion in national politics and to provide voice for the youth, vulnerable groups, opinion leaders and the broader spectrum of the society, as well as contribute its quota to the achievement of a peaceful poll on December 7.
Another objective of the project is to create a platform to dissect the manifestoes of all political parties and provide in-depth analysis of each thematic area to the electorate to enable them to make an informed judgment.

The CPP said if elected to form the next government it would significantly reduce income taxes for teachers (and health personnel), in addition to other incentives, for those who work in rural areas and places designated as deprived.

It would continue to ensure that teachers are paid well and that those who need training receive them through every available and affordable means, including distance learning.

A CPP Government would use tax incentives for the private sector, especially financial institutions, to build school infrastructure in particular areas of the country and lease that infrastructure to the state for a specified period, after which they become state property.

It would improve the working conditions of teachers, including timely payment of salaries for new and current teachers and institute attractive home-ownership packages.
"We will improve education content and administration as well as learning processes by strengthening decentralisation to give local administrators the authority to deal with local problems promptly without waiting for directives from Accra or the regional capitals.

"Accelerate on-going programmes to increase the number of teachers in our classroom while training others already in the classrooms with the minimum disruption for teachers and students," the CPP stated.

A CPP Government would build an educational system that does not only provide academic and life skills but inculcates in children a high degree of self-esteem, personal responsibility, civic duty, patriotism and community service (volunteerism).

It would strengthen academic and career counselling at all levels of the educational system.
Source: GNA