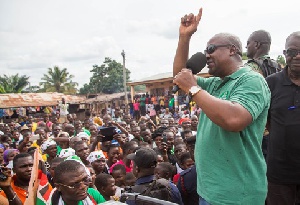 Sun, 4 Sep 2016 Source: Naabenyin Joojo Amissah
The Central Region is ready to receive the President, His Excellency John Dramani Mahama in the Region from Monday the 5th to Friday 9th September as the President embarks on phase one of his 2016 campaign tour in the Region.
The visit, which would mark the first phase of the President's tour in central region would be expected to take His Excellency John Mahama to 15 out of the 23 constituencies in the Region.

The constituencies are: Awutu/Senya East and West, Agona East and West, Gomoa Central, Gomoa East and West, Mfantseman and Abura /Aseibu /Kwamankese constituencies.

The rest are; Cape Coast North and South, Komenda/ Edina /Eguafo /Abrem, Asikuma/ Odobeng/Brakwa and Ajumako/ Enyan /Essiam constituencies.

It is envisaged that rallies would be held in all the constituencies that the President will visit alongside campaign launch for some of the constituencies.

It is also expected that the President would address a large gathering of party faithfuls, supporters and sympathisers at all the rallies.
Also, the President is expected to meet with Central Region fishermen, fishmongers, canoe owners, wives of fishermen and fish sellers in the Region at Moree and address them accordingly.

Additionally, the President would use the opportunity to commission three modern day Senior High Schools, popularly known as "Mahama Secondary Schools" at Agona Namanwora in the Agona East constituency, Gomoa Gyaaman in the Gomoa Central Constituency and Agona Abodom, the home town of famous comedian, Super O. D. in the Agona West Municipality.

The fever of the tour has already gripped the Region as party paraphernalia and flags are already flying high in Cape Coast, Elmina, Agona Swedru, Ekumfi Esuehyia, Ajumako, Kasoa, Winneba and other places.

In an exclusive interview, the Central Regional Communication Officer of the NDC, Mr. Kwesi Dawood explained that branch, ward, constituency and the Regional Executives under the able Chairmanship of Mr. Bernard Allotey Jacobs have planned and prepared adequately ahead of the President's tour and that the "Toaso" flavour was all over the region.

He hinted that His Excellency John Dramani Mahama would visit the other constituencies that do not form part of the phase one of the campaign at a later date that would be communicated in due course.
This would mark the second time in a couple of three weeks that the president would be visiting the central region.

It would be recalled that the president stormed Cape Coast when the National Democratic Congress NDC launched it campaign for the 2016 elections on the 14th of last month.

The tour would be the third in succession of the president since the party officially launched it campaign for the 2016 electioneering.

The president immediately after the official campaign launch moved to the western region with his campaign before he continued to the Northern region where he was given a rousing welcome by the people.
Source: Naabenyin Joojo Amissah