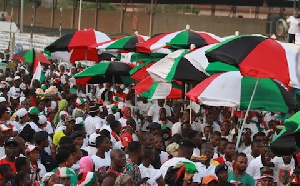 Sun, 4 Sep 2016 Source: Naabenyin Joojo Amissah
The central regional communication officer of the National Democratic Congress, Mr. Kwesi Dawood says the people of Central Region will demonstrate their sincerest appreciation to the NDC, by voting massively for President John Dramani Mahama in the December elections to help retain the party in power.
This, he said, would go a long way to ensure that the region would become the next World Bank for the NDC after the Volta region.

Mr Dawood stated this in an exclusive interview ahead of the first phase of the president's campaign tour in the region which starts from Monday 5th to 9th September.

According to Mr Dawood, under the leadership of president Mahama, the central region has benefitted immensely from the better Ghana agenda, in terms of infrastructural development and other social intervention programmes that have transformed the lives of the citizens of the region.

He continued that the president made the people of the region proud when he

selected His Excellency Paa Kwesi Amissah-Arthur, a true son of the region as his running mate in 2012 and his vice for 2016 as well.
Mr. Dawood intimated that President John Dramani Mahama has fulfilled all the infrastructural and other promises that were made by the late Prof. Atta Mills to the people of the region and has even added more.

He mentioned the New Cape Coast Stadium, the Komenda Sugar Factory, Essuakyer Water Project, Elmina Benya Bridge, Elmina Fish Processing Plant and the Kotokoraba Market in Cape Coast as some of the major infrastructural developments that the region has benefitted under president Mahama's administration.

"Today the NDC has become very attractive in the region. Every single district or constituency in the region has benefitted from at least one developmental project which the citizenry can attest to. This is the evidence based achievement we are talking about". He stressed.

"We can boast of several Senior High Schools in the region today. In fact, the developments projects we have in the central region under the NDC are unprecedented and these are what the good people of the central region are going to vote," he added.

The communications officer emphasised that several vulnerable ladies and women in the region have been supported by the first lady, Mrs Lordina Mahama through her "Live Changing" interventions.
He said, the regional executive of the party under the chairmanship of indefatigable Mr. Allotey Jacobs are working assiduously to ensure that their projected target of winning over 20 parliamentary seats in the region could become a reality.

Also, the party, he said, was poised for winning over 60 per cent of the total valid votes that would be cast in the region in December.

Currently, the NDC has 16 out of a total of 23 parliamentary seats in the central region.
Source: Naabenyin Joojo Amissah