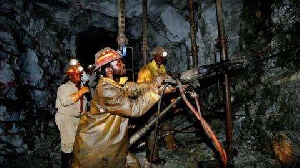 Former Obuasi Metropolitan Chief Executive (MCE) under the erstwhile Mahama administration, Richard Ofori Boadi Agyemang widely known as 'Zuba' has attributed the partial shutdown of Anglogold Ashanti in Obuasi to partisan politics.
Nana Addo Dankwa Akufo-Addo, re-opened the Anglogold Ashanti gold mine in Obuasi, which was closed in 2014, in fulfilment of a campaign pledge he made to the people of Obuasi on 15th July, 2016, in the run-up to the 2016 general elections.

Addressing the Chiefs and people of Obuasi, on Tuesday, 22nd January, 2019, Akufo-Addo noted that upon his assumption of office, a series of discussions and negotiations took place, the end-result being the re-development project of the Obuasi mine.

With an estimated two thousand, five hundred (2,500) jobs to be created, Akufo-Addo was confident that Obuasi, a once vibrant town, will be brought back to life again, with an improvement in the living circumstances of its residents.

In an interview with Ekourba Gyasi on Atinka FM's AM Drive, he stated that Ghanaians have attached NPP-NDC sentiments to social issues.
The former MCE stated that in 2011 Anglogold Ashanti produced gold over 380,000 ounces of gold for the year, in 2012 production was a little over 312,000 which showed a decline in over 50,000 ounces of gold.

He noted that, while Anglogold Ashanti was producing around 312,00 in 2012 with a work force of 5,000, Tarkwa Mines was producing more ounces of gold with lesser workforce.

He added that the problem was more of workforce and finance issues and not a political party deliberately closing down a company.

Former Obuasi Metropolitan Chief Executive, also revealed that what the President did yesterday was the launch of the redeveloped Obuasi Mines and not a reopen like the NPP wanted to put across.