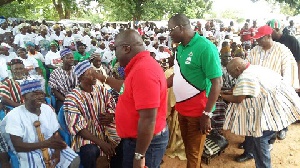 The Chief of staff Mr Julius Debrah today rounded off his five-day tour of the Volta region with a Health Walk through the principal streets of Ho.
Some national and executive members of the party and a large number of people took part in the event.

The Volta Regional Minister Hon. Helen Adjoa Ntoso in a short address after the exercise said the NDC will surely achieve its one million gap target between the party ( NDC) and the main opposition party, the NPP, in the December 7 th election.
Hon Adjoa Ntoso described the turn out for the event as an indication that the party will win the election.

She advised supporters of the party to engage in a serious house to house campaign to ensure a one touch victory for the party.