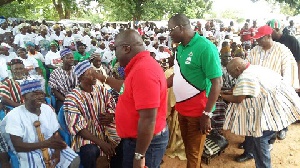 Tue, 8 Nov 2016 Source: Samuel Ablordeppey
The Chief of Staff Mr. Julius Debrah has turned his focus on the Eastern region, where he is expected to campaign vigorously to neutralize the inroads made by the opposition New Patriotic Party and help achieve the agenda 5050 votes at the December elections.
Barely two weeks after the President toured the region, the Chief of Staff is following in his stead to shore up the votes for the President and the NDC.

Whiles the President is criss -crossing the Ashanti region, his able Chief of Staff Julius Debrah is hitting the Eastern region for his boss's re election campaign.

The Chief of Staff is working to effectively compliment the efforts of president Mahama to guarantee a comprehensive victory on Dec 7.Mr. Julius Debrah has toured the Upper West, Brong Ahafo and the Volta regions with the changing lives, transforming Ghana campaign which has been described as hugely successful.

The Eastern region which is considered to be a stronghold of the opposition New Patriotic Party (NPP) is under threat as the NDC in that region has threatened to equitably share the votes, in what is termed "chemphe" operation 5050.The Chief of Staff's visit to the area is a follow up to an earlier visit by President John Dramani Mahama.
He would pay courtesy calls on the Chiefs and opinion leaders, address a durbar of chiefs and people at specific communities as well as interact the rank and file of the party.

This is aimed at energizing the base of the party and oiling the supporters to work harder for a one touch victory. Mr. Julius Debrah who hails from the region would attempt to water down the gains made by the NPP and shore up votes for the commander in chief of the Ghana Armed Forces.

The Chief of Staff, has Professor Kwamena Ahwoi, a member of the President Mahama campaign team madam Cecelia Johnson, Mr. Kofi Totobi Kwakye among others.
Source: Samuel Ablordeppey