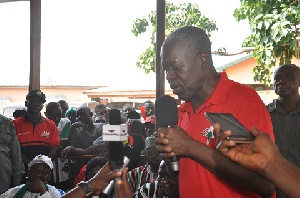 Sat, 19 Nov 2016 Source: Maxwell Okamafo Addo
Vice President Kwesi Amissah-Arthur has called on NDC members to be vigilant and close their ears to doom mongers because the opposition New Patriotic Party is aware they will lose the elections and therefore want to foment trouble.
Per Mr. Amissah-Arthur, to ensure a resounding victory for the President in the December 7 elections, he urged foot soldiers of the National Democratic Congress (NDC) to intensify their door to door campaign.

Vice President Amissah-Arthur was speaking to a rapturous welcome by NDC supporters at Seikwa in the Tain Constituency of the Brong Ahafo Region on his second-day campaign tour to the region.

Mr Amissah-Arthur said President John Mahama has achieved significant successes across various sectors of the economy and his supporters should be proud of these achievements.

"I will urge all members of the NDC to go from house to house, window to window and door to door to propagate the good works of President Mahama to enable him to win the December 7 general elections," he said.

He also urged all members to resist the temptations of staying at home on election day, adding that they should all go out in their numbers and vote massively for President Mahama and NDC parliamentary candidates.

"In the coming elections, if we don't go out to vote, then it is like voting for the NPP, and we are not ready for them, so I will urge all to go out in their numbers and vote for President Mahama," he said.
Vice President Amissah-Arthur said NPP's record in office in term of infrastructural development compared to that of the NDC is nothing to write home about.

He said the President Mahama-led government have provided a lot of infrastructural developments for the Region in terms of health facilities, roads, water and education especially the Community Day Senior High Schools.

Vice President Amissah-Arthur stated that should President Mahama be given another four- year mandate by the people he would continue to do more.

He urged the electorate to vote for Hon. Gyan Tutu as the MP for the area in order to complement the efforts of President Mahama in Parliament to bring development to the community.

Mr Amissah Arthur said most of the promises made by the government to the people in the area concerning infrastructural projects were being provided while others are ongoing.

He urged Ghanaians to conduct themselves in an atmosphere of peace before and after the elections.
Source: Maxwell Okamafo Addo