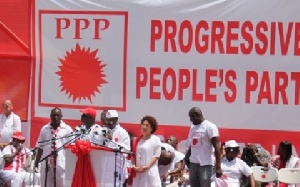 The Progressive Peoples Party is accusing the ruling government of diverting funds from the common fund for use at the central level rather than focusing it on the development of the various assemblies at the local levels.
The PPP which has been on government's toes to fasten processes for the election of Metropolitan, Municipal, and District Chief Executives (MMDCEs) believes government is taking undue advantage of its control over the MMDCEs to rob the Assemblies of the funds needed to boost development at the local level.

In a statement dated May 15 and signed by National Chairman of the PPP, Nii Allotey Brew-Hammond, they described as an abuse of power and a clear breach of spirit and letter of the fiscal decentralization policy, the distribution formula recently approved by parliament and the subsequent directives from the President's appointed Administrator of the District Assemblies Common Fund.

According to them, the Akufo-Addo administration is 'talking' decentralization when it is politically expedient but 'practicing' centralization when no one is watching, just like what the NDC in power did.
They are demanding that parliament checks such breaches to ensure that such misappropriations are avoided subsequently and that the disbursement of common funds to MMDAs would be based on an open and transparent formula approved by parliament.

Below is the full statement