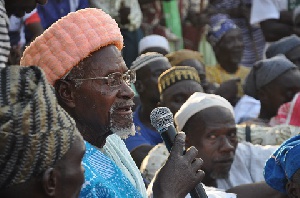 Wed, 2 Nov 2016 Source: Maxwell Okamafo Addo
The Chief of Dalung has stated that the people of the Northern Region are Grateful to the NDC government for the peace, development and unity that the NDC party has brought to the people of the region especially Dalung.
Chief Daluna Mahama made the statement when the Vice President Kwesi Amissah-Arthur called on him at his palace at Dalung in the Kumbungu traditional Area, to interact, share ideas and also introduce the NDC Parliamentary candidate for the Kunbungu Constituency Hon Ras Mubarak to them as a candidate of substance.

He said the people of Dalung would continue to vote for President Mahama and the NDC for peace, unity and development.

The chief further stated that they have electricity good, drinking water, roads and easy travelling without hindrance, putting up of health centers and hospitals and the lifting of Muslims to Mecca from the Tamale International Airport with ease .

On his part the Regional Minister said government would continue to provide infrastructural development for the area and believes that President John Mahama has exceled in office so deserves second term.
He said Mahama has always had the well being of Ghanaians at heart and will work tirelessly to keep transforming lives under the 'Better Ghana Agenda.'

He said tolerant of dissenting views, peaceful and accommodating nature of President Mahama has made the NDC more united than ever before.

He said it is in the same manner that he has been able to keep Ghana united, stable and peaceful. These according to the Vice President are key and they will continue to be for Ghana's development.

He said development is a systematic process and government has to ensure that every part of the country gets part of the national cake.
Source: Maxwell Okamafo Addo