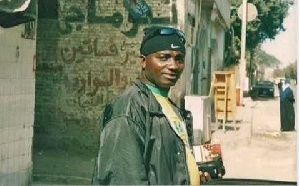 NDC's Kumasi-based popular serial caller, Frank Appiah popularly known as 'Appiah Stadium' says he has credible evidence about an agenda set to make former President John Dramani Mahama "unpopular" ahead of the 2020 election.
He named staunch member of the National Democratic Congress, Dela Coffie and some key presenters at Radio Gold as master minders of the agenda.

"They started this agenda long time ago but some of us will fight against that," the popular serial caller said on NEAT FM.

His comment comes after Dela Coffie penned an article indicating that the NDC needs a better candidate for 2020 but obviously not Mr. John Dramani Mahama.

To Dela Coffie, bringing the former President back as presidential candidate in the 2020 elections will jeopardize the party's chances of regaining power because he has become very unpopular due to his humiliating loss in the 2016 presidential polls.

According to him, if John Mahama, as an incumbent president could lose miserably in the 2016 elections, then he has no merit of becoming victorious in the upcoming elections, therefore retaining him as flagbearer will only keep the party in opposition for many years.
He noted that since the party's electoral defeat, little has been done to resolve issues that drove the party into opposition and those memories are still fresh in the minds of Ghanaians.

"The damage caused to the John Mahama product is beyond repairs."

"The issues that led to the rejection of Mahama at the polls in 2016 are still hot on the lips of the average Ghanaian. Indeed, the current government has started some processes aimed at nailing a few of Mahama appointees so as to justify the corruption rhetoric they put out during the campaign," Mr. Coffie wrote.

Stressing the need for a fresh candidate to run on the ticket of the NDC in 2020, Mr. Coffie argued that former President "Mahama brings virtually nothing to the table as a candidate in 2020, looking at how he reduced our electoral fortunes from 50.7 in 2012 to 44.4 in 2016 as a sitting president."

"If you lose miserably by that margin as President, how you can possibly overturn that in opposition?" he quizzed.
He maintained that, "Our party is in need of a strong center and a leader that would be acceptable by all. Let's not engage in a needless battle with reality. Mashed potatoes will never look good and so John Mahama should just admit the wrongs, get behind and let a new candidate do a mob up. Then the NDC can have a clear way."

Speaking on NEAT FM's morning show 'Ghana Montie', Appiah Stadium warned that "This nonsense must stop or I will match them boot for boot. Our leadership must speak on this issue. No one can tarnish the image of John Mahama under my watch; I will not let that happen, never."

Adding that, "The foolishness from them must stop. If even the NPP are not insulting Mahama, who dare someone like Dela to insult the former president?"