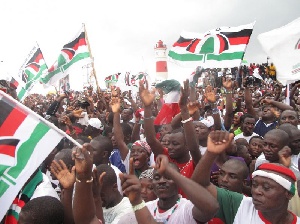 Wed, 19 Oct 2016 Source: GNA
The National Democratic Congress (NDC) parliamentary candidate for Dome-Kwabenya, Mr Nurudeen Mohammed has said that his party is poised to take over the seat from opposition New Patriotic Party (NPP).
According to him, the assertion that the constituency is the stronghold of the NPP hence he stands a very little chance of winning in the upcoming election is false.

He said, "The Dome-Kwabenya Constituency is not the stronghold of any single political party, the seat is winnable and the NPP can therefore not continue to claim ownership of it in the area."

Mr Mohammed, who was launching his Campaign in the Constituency, said although the NPP had occupied the seat for so many years, the performance of President John Dramani Mahama in the country would catalyse many more people to opt for the NDC in the December polls.

The launch attracted hundreds of party supporters amidst drumming and chanting of the party songs and slogans.

It was also attended by party bigwigs including, Mr Ade Coker, the Greater Accra Regional Chairman of the Party, and other constituency executive members.

Mr Nurudeen Mohammed, who is a Journalist by profession, said with his knowledge of the Constituency, he would work hard to create a better environment for the betterment of the vulnerable and marginalised in society.
He said the incumbent Member of Parliament had nothing to offer the people, which had created the opportunity for the electorate to constantly call for a change to transform their living conditions in the coming days.

"The people have realised that they had been deceived all these years and are, therefore, yearning for a change, which I will offer in humility after the December Polls."

He, however, cautioned his party supporters to remain calm and vigilant on the voting day to avoid election malpractices.

He promised that a win for him and President Mahama in the Constituency would further step up the provision of development projects in the area and appealed to the electorate to demonstrate their solidarity with the party by voting massively.

Mr Ade Coker, the Greater Accra Regional Chairman of the Party, urged the constituency executives to intensify their house-to house campaign programmes to retain the faith of their supporters.

In doing that, however, the Regional Chairman tasked them to resist any measures that could undermine the peace and unity the country was enjoying.
Source: GNA