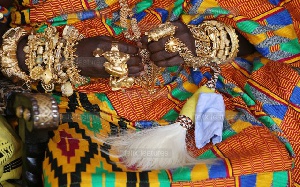 Wed, 16 Nov 2016 Source: classfmonline
The chief of Juaso, in the Ashanti Region, Nana Asafoakaa Agyei Tabiri, has appealed to government not to abandon projects it initiated in the area after the December polls.
The Chief cited uncompleted roads under the Cocoa Roads Rehabilitation Project and other infrastructural projects government had initiated in the Asante Akim South district and urged the current administration to pay attention to ensure they were completed.

Nana Asafoakaa Agyei Tabiri made the remarks when the Chief of Staff, Julius Debrah, paid a courtesy call on him as part of his campaign tour of the Ashanti Region on Wednesday 16 November.

"In the last three months government has started constructing the Juaso town roads under the Cocoa Roads Rehabilitation Projects. Government also started constructing masters' bungalows for our secondary school in 1996, but from year 2000 the project stalled until the district chief executive under this government helped to get the project going again. So, I would like to extend my appreciation to the DCE and government for that," he stated.
"Government is also constructing community ICT centres which Juaso is a beneficiary. My worry, however, is that during elections, government begins many of these projects but stops when the elections are over. I hope this time things will be different. We are hoping government will complete the Juaso town roads."

He appealed to government to get the Juaso Senior High School a bus and also construct more bungalows for the teachers.
Source: classfmonline