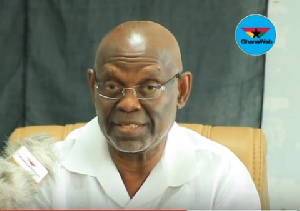 The founder of pro-John Mahama group JM Youngsters Foundation, Emmanuel Asamoah, has cautioned national executives of the National Democratic Congress (NDC) not to attempt to edit portions of the report submitted by the Professor Kwesi Botchwey Committee tasked to probe the defeat of the NDC in last year's elections.
According to him, the foundation has grabbed a copy of the report, hence is fully aware of who has been blamed for the defeat and how those persons should be treated.

According to him, the report has blamed executives such as the National Chairman and General Secretary of the party, Kofi Portuphy and Johnson Asiedu Nketia, as well as National Organiser Kofi Adams and so these individuals should not be shielded but should be dealt with accordingly.

The 13-member committee, as part of its recommendations in a 455-page report, called for steps to be taken to strengthen research and intelligence in the party by involving the larger body of the party's intellectual capacity which had not been active in the last few years.

But speaking in an interview with Chief Jerry Forson, host of Ghana Yensom, on Accra100.5FM on Friday June 23, Mr Asamoah noted: "Because the report has mentioned the names of Kofi Adams, Asiedu Nketia, and Chairman Portuphy as having caused the defeat, they have decided not to make it public. What is the rationale for making the report secret?

"We have managed to get a copy of the report and we know exactly what has been stated. Also during the work of the committee, we tasked people to follow them everywhere they went to record proceedings and so we know who have been blamed for the defeat.
"For instance, in the Volta Region, most of them blamed the defeat on the insult hurled at former President Rawlings by some NDC executives. They said some executives were describing JJ as a dog and so they wouldn't even think of voting for the NDC. That has been stated in the report and we also know who described JJ as a barking dog. Chairman Portuphy and Kofi Adams have all been blamed in the report and so they shouldn't come out to tell us their versions that have not been captured in the report. They should not attempt to alter the report. We won't allow that to happen, we are giving them a one-week ultimatum to make the report public, otherwise we will reproduce copies and distribute to the media to ensure transparency."