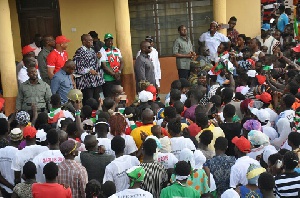 Thu, 8 Sep 2016 Source: Flagstaff House Communications Bureau
Vice President Kwesi Amissah-Arthur has called on the electorates to vote for a leader who represents peace and stability for the country.
Mr Amissah-Arthur says peace and stability form the foundation for social and economic progress and it is therefore important that Ghanaians elect a leader who is not divisive.

He said this when he paid a courtesy call on the paramount chief of Buipe, Buipewura Abdulai Jinapor II.

The Vice President said Mr Mahama has not only got a solid record of achievement behind him as president, but also he has a strong government and a united party as a result of his unifying skills and good leadership.
For his part, the Buipewura Abdulai Jinapor II in a statement delivered on his behalf called for a violence-free elections.

Buipewura Jinapor II also commended the government of President John Mahama for the numerous developmental projects in the Gonja area and across the country.
Source: Flagstaff House Communications Bureau