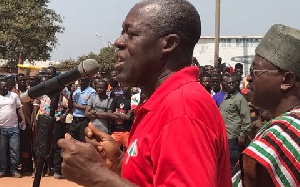 Fri, 25 Nov 2016 Source: Maxwell Okamafo Addo
The Vice President Kwesi Amissah-Arthur has called on Ghanaians not to vote for a party that would bring them retrogressive change.
He made the remarks at Agona Bobikuma as part of his five day campaign in the Central Region.

Mr Amissah-Arthur said the NDC government is a tried and tested party that believes in peace, unity and development.

He said the party has a track record and it's there for all to see because it visible.

He uses the occasion to call on them to give President Mahama a one touch victory for the December poll, he's has been able to deliver in the area of massive infrastructure development projects in the Central Region.

So the need to give him a second chance for continuity.
Mr Amissah-Arthur reechoed them to continue to embrace peace before and after the elections.

And not to listen to the other contestants who are preaching violence. Because the law is no respecter of persons no matter the party affiliation.

Vice President Kwesi Amissah-Arthur used the occasion to introduce the NDC parliamentary candidate for the area Lawyer Obeng Inkoom to them.

And called on them to vote massively for him looking at his good works in the constituency,
Source: Maxwell Okamafo Addo