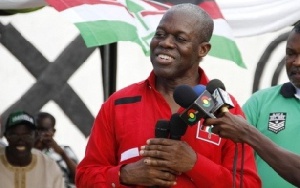 The Vice President, Kwesi Amissah-Arthur says a vote for any party other than the ruling National Democratic Congress (NDC) in the December election, will amount to a wasted vote.
According to the Vice President the government has performed creditably to justify another term.

"Evidence of our good performance abounds for all Ghanaians to see," he said, and expressed confidence that the electorate would renew the mandate of the NDC administration.

Vice President Amissah-Arthur said this at a mammoth rally at Diaso in the Upper Denkyira West District of the Central Region yesterday, as part of his campaign tour of the region.

"The NDC is development-oriented and we will work to achieve more progress for the country in the second term.

We do not offer false promises as others are doing to deceive Ghanaians. We deliver on our promises," he said.

Citing various completed projects in the district, including schools, roads, markets and water facilities, the Vice President said only a good and focused government could deliver such projects to better the lot of the people.
He thanked the chiefs and people of the district for their support and urged them to be vigilant against deceitful propaganda by the opposition parties.

"You vote for development and progress when you vote for the NDC," he said.

He gave the assurance that more projects and development interventions would be advanced to the area in line with the government's policy of equitable distribution of national resources.

From Diaso, Vice President Amissah-Arthur moved to Ayamfuri where he was mobbed by a large crowd of NDC supporters who chanted party slogans.

He urged them to vote massively for President Mahama and the presidential candidate for the area to continue the good works.

Samuel Ofosu Ampofo, a National Vice Chairman of the NDC urged the people to express appreciation for the rapid development and high number of projects undertaken for the area by voting massively for the NDC.