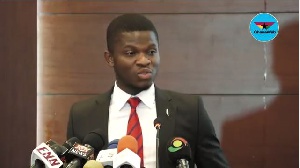 Sammy Gyamfi, a leading member of the opposition National Democratic Congress (NDC) Communications Team has hit hard on the government over the double-track system.
To him, the problems being faced by the nation's second cycle educational structure is as a result of "lack of foresight, lack of proper planning and lack of proper consultation".

"…we saw all these problems from day one. When Free SHS was declared but these people referred to us as Nation wreckers so let me ask, if you need a rocket scientist to tell you addition infrastructure would be need should we roll out this Free SHS," he said on UTV's Adekye Nsroma.

Sammy Gyamfi who is contesting for the National Communications Officer position further stated that the actions and inactions of government questions its commitment to the Free Senior High School Policy.
He made these assertions during a panel discussion on challenges being faced as the time table of the enrollment of the Free SHS policy.

Parents are reported to have besieged the offices of the Ghana Education Service (GES ) across the country to solve placement issues of their wards