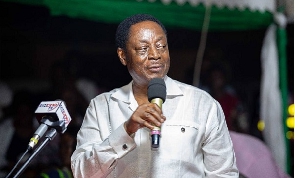 Dr. Kwabena Duffuor, flagbearer hopeful for the National Democratic Congress (NDC), has announced his withdrawal from the party's upcoming presidential primaries slated for Saturday May 13, 2023.
The decision was made public during a press briefing held late Friday evening at the Institute of Fiscal Studies in Accra.

Dr. Duffuor, who had been eagerly vying for the NDC's presidential race, cited flawed processes leading up to the elections as his primary reason for withdrawing.

During the press briefing, Dr. Duffuor acknowledged that consultations with his campaign team played a significant role in his final decision.

Taking their advice into account, he concluded that withdrawing from the race was the most appropriate course of action.

"After consulting with my support based nationwide, I have been left with no choice but to withdraw from the presidential election as I cannot contest in an election which is blatantly fraught with irregularities regardless of all my efforts to draw attention to same," he said.
Earlier, GhanaWeb reported that Dr. Kwabena Duffuor had withdrawn an interlocutory injunction filed against the party primaries.

Dr. Kwabena Duffuor filed a case in court on Tuesday, May 9, 2023, for an interlocutory injunction on the NDC primaries.

Meanwhile, watch a snippet of upcoming edition of 'Say It Loud' below:



Watch the latest episode of The Lowdown below:


AM/SARA