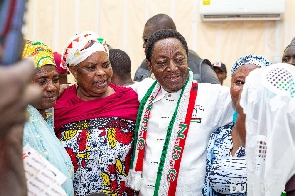 The former Governor of Bank of Ghana, Dr. Kwabena Duffuor has joined the National Democratic Congress team at Kumawu in the Ashanti region to campaign for the party's candidate ahead of the by-election.
In a statement the spokesperson for Dr. Kwabena Duffuor, Antonio Edem Asinyo indicated that his boss is committed to winning the Kumawu seat for the NDC.

"As part of the National Democratic Congress (NDC) preparations towards the May 23rd by-election in Kumawu, Dr. Kwabena Duffuor will be joining the NDC today, Friday, May 19, 2023 on the ground to make the case for the election of our Parliamentary Candidate – Kwasi Amankwah.

"As a native of Kumawu, the former Governor of the Central Bank and former Finance minister is fully committed towards enabling our party to secure a victory in this by-election, particularly one involving his native people," Mr. Antonio stated.
He continued: "Dr. Kwabena Duffuor invites all to rally behind the party and our candidate before, during and after this election, to build our momentum ahead of our general contest in 2024."

Slated for May 23, 2023, the by-election follows the death of the MP for the constituency who will be buried on Saturday.

The leadership of the NDC has been in the constituency supporting the candidate, Akwasi Amankwa, and his executives in the campaign.