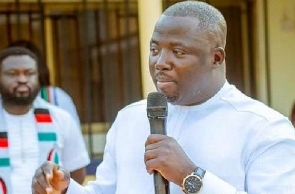 Mustapha Gbande, the Deputy General Secretary of the National Democratic Congress (NDC), has expressed his discontent with Dr. Kwabena Duffuor, accusing him of damaging the party's reputation.
According to him, instead of Dr. Kwabena Duffuor seeking consensus within the party, he has resorted to legal action over alleged irregularities surrounding the upcoming party presidential and parliamentary primaries.

Speaking in an interview with Neat FM on May 11, 2023, he lamented that Duffuor's approach to the matter was uncalled for. He added that had he been in charge, he would have taken an advanced decision against him.

"NDC is prepared for Congress on Saturday, but rather it is Kwabena Duffuor who is destroying the party by putting the image of the party into disrepute. If I was in charge, I would have advanced certain decisions, but because I am not in charge, we will respect the processes of the court and institute mechanisms to resolve this dispute because we still believe that once he is still in the contest as a presidential candidate, he must be accorded that respect and courtesy," he said.

Mustapha further highlighted that the NDC party is willing to engage in a dialogue with Dr. Duffuor to find an amicable solution.
He stressed the importance of listening and utilizing the proper channels within the party structure to address grievances effectively.

"...if they were willing to listen or if they were willing to sit with the body, I believe that we would have come to some understanding and moved on," Gbande remarked.

Duffuor has secured an interlocutory injunction on the election which was slated for Saturday, May 13, 2023, over what he termed as irregularities concerning the elections voter register and photo album. Originally slated to be heard on Monday, the court has agreed to hear the application today with 24 hours to the May 13 date for primaries.