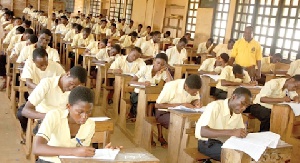 Sat, 8 Oct 2016 Source: GNA
Mr Kobby Acheampong, National Democratic Congress (NDC) parliamentary candidate for the Cape Coast North Constituency, has said education, access to quality health and welfare of the aged are among his top priorities when given the mandate.
He said education and health are key to human development and pledged to implement programmes geared towards improving those sectors to enhance the development of the people.

Mr Acheampong said this when addressing party faithful and supporters at the launch and inauguration of the Cape Coast North Constituency election campaign team at Abura.

He said Cape Coast North and the Central Region in general has seen massive development under the watch of the NDC Government.

He made references to the Cape Coast Stadium, Abura Market among others and asked voters to renew the government's mandate to continue with the good works in the Region.

Mr Bernard Allotey Jacobs, the Central Regional Chairman of the NDC, who inaugurated the campaign team, called on the party's faithful in the constituency to be bold and campaign on the achievements of the NDC to every voter to ensure victory for President Mahama and Kobby Acheampong in the December polls.
He urged them to disregard the alleged blatant lies being told their political opponents and remain focused in their campaign.

Mr Samuel Okudzeto Ablakwa, Deputy Minister of Education in charge of tertiary education, said the NDC was a united and formidable party that tolerated all divergent views and called on the NPP to emulate their example.

He said the NDC has a solid track record in development and this could not be compared to the achievements of any party with its three regional hospitals, three public universities as against nothing for the NPP.

Mr Ablakwa urged the party faithful to avoid "skirt and blouse voting", where people either give their votes to the presidential candidate of a party and refuse to vote its parliamentary candidate or the reverse becomes the case and vote for both President Mahama and the parliamentary candidate.

Party executives including the outgoing MP for the Cape Coast North Constituency, Mr Ebo Barton Odro, the Central Regional Minster and MP for Cape Caost South, Mr Kweku Ricketts- Hagan and other national executives were present to support their colleague.
Source: GNA