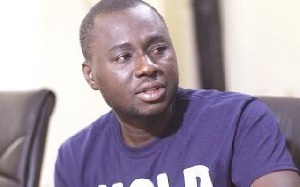 Atik Mohammed who is the General Secretary of the PNC, advised Dr Mahama to either resign from his position as leader of the party or be fired.
"I was only called by someone who informed me our leader had been appointed as an Ambassador. I took it as a joke considering his persona and how he has conducted himself in the party in terms of such appointments in the past. You remember the offer given him by Former President John Agyekum Kufuor which he declined", he recounted.

He said the party has not been duly notified wondering why he even failed to disclose the issue to key executives considering his position as a leader of the PNC.

"He is the leader of the PNC and he needed to discuss with the party considering the implications this about will have on the party. The PNC is opposition and he is not on his own", he disclosed on Accra-based Okay Fm.

The PNC leader questioned why Dr Mahama is asking the principles to dwarf in his case when he is the same person who rose against similar appointments in the past hinting that the National Executive Committee (NEC) of the party will meet and determine its next line of action.
"The party will meet and take a decision. We cannot have a leader whose loyalty is not intact and I am not saying he is not a loyal PNC man. His continuous stay in office as our leader will have repercussions on the party", he added.

Dr Nasigri Mahama who has been the party's long-serving flagbearer said he did not need the blessing of his party before he could accept the appointment explaining that it is not arrangement between the party and the current government.

"I only discussed the matter with my running mate when I was first approached in January this year. I do not think it was necessary to discuss the issue with the party because it is not a party matter. I was first approached about the matter in January and I asked to be given some time to think about it. We are not saying our members cannot serve in governments of other parties but they must seek party approval", he disclosed.