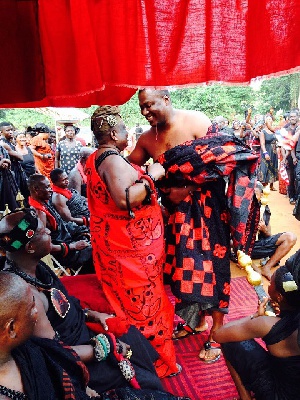 Mon, 5 Sep 2016 Source: Effiduase-Asokore NPP
The New Patriotic Party's Parliamentary candidate for Effiduasi / Asokore constituency in the Ashanti Region Dr Nana Ayew Afriyie over the past 3 weeks, and as part of his campaign tour called on all chiefs and their elders in the 46 towns serving his constituency.
As custodians of the land in the area, Dr Afriyie who doubles as president for Pro-Opposition pressure group Alliance For Accountable Governance (AFAG) was accompanied by his party chairman Mr Osei Adiyiah and constituency executives. His visit was to officially ask permission to campaign on their land and also, to seek their blessings as he blazes the campaign trail from September ahead of the December 7th 2016 presidential and parliamentary polls.

The chiefs and their elders outlined their problems and entreated him to among others ensure the provision of good and accessible roads, KVIPs and portable drinking water when his party the NPP is elected into power. The chief of brofoyedru made a special appeal when he called on him to wage a crusade when he becomes an MP to allow chiefs to be involved in active politics. In his opinion, responsible chiefs will be swing voters as they could call for parties that indeed deliver development to their area. He opined such a situation will make parties very competitive and accountable to their actions and inactions.

Virtually all the chiefs were amazed as this was the first time a parliamentary candidate had called on them prior launching their campaign to officially ask for their blessing and support. The chiefs and their elders commended Dr Afriyie and his executives for the initiative. According to them, it showed a sign of respect, humility and his willingness to collaborate with the traditional authorities. They showered their blessings on the PC and his executives and in some instances poured libation for ancestoral support.
In response, the chairman of the constituency Mr. Osei Adiyiah on behalf of the campaign team, thanked the chiefs and their elders for their support and promised is a listening son and the NPP will be available to partner for development. It was his prayer that the NPP be overwhelmingly endorsed by all on 7th December for a prosperous Ghana.

The Effiduase-Asokore campaign train is scheduled next to call on muslim and christian council leaders before it commences it's final journey to engage electorates in the constituency to vote massively for the NPP on the 7th of December.
Source: Effiduase-Asokore NPP