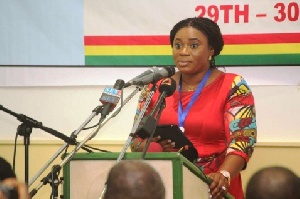 The principal character who will supervise Ghana's 2016 elections has said she is still undecided who to vote for come November 7.
Mrs Charlotte Osei, who is the chairperson of the Electoral Commission of Ghana, said she voted in 2012 as the head of the National Commission on Civic Education (NCCE).

"It's my civic duty," Mrs Osei told Nii Arday Clegg – the host of the Morning Starr on Starr 103.5 FM - on Monday.

However, the EC boss noted she is currently in a fix as to who to vote for in the presidential election, attributing it to "a mood thing."

According to her, she is likely to vote, but that will be after assessing the manifestos of the various political parties.
"I don't know yet. Yes, I did. My colleagues at the commission feels I don't have to. It's a mood thing. I don't know who I will vote for. I haven't seen the manifestos yet," Mrs Osei remarked.

Ghana's general elections in November will be the first major political contest that she is overseeing, having stepped into "the big shoes" of Dr. Kwadwo Afari Gyan, who retired in June 2015.

The poll is a straight fight between incumbent John Dramani Mahama, who is eyeing a second term and Nana Akufo-Addo of the main opposition New Patriotic Party (NPP), who is also running for the third time.